Welcome to JPS Photo Restoration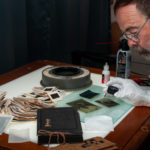 Do you have shoe boxes, envelopes, zip lock bags, photo albums and slide carousals full of your years of acculminated family memories? It's not always easy to pull out all of those memories and share with your family and friends. I'm here to help you bring your memories to life in digital form.
My name is James Smock and I'm the owner/operator at JPS Photo Restoration. I've spent many long years as a photographer and family history researcher and I've seen firsthand the joy that vintage photos bring to people's lives. I've scanned and restored thousands of images and I'd love to help you preserve and restore your life long memories and bring them into the digital age.
JPS Photo Restoration specializes in professional editing, repairing and restoring of digital image files along with personalized, professional digital scanning of photos, framed photos, negatives, slides, transparencies, photo albums, scrapbooks, newspaper articles, documents, bound books and other mementos and documents. I can scan most any type of media including old black and white negatives, tintype photos, any size positives or slides, medium and large format negatives and transparencies, over-sized photos, curled or wrinkled negatives and much more. Your scanned photos and documents can be enjoyed as is, with all of the imperfections, or I can professionally edit, repair and restore the digital files.
All services are completed on-site at my office in Houston and your precious memories never leave my possession.
My prices are competitive, but the most important thing is that I can give you a more personal experience and overall better results than the big guys who deal in quantity, not quality. I promise to provide first class service on all orders big and small and I offer a money back guarantee if my service doesn't meet your expectations.
For more detailed information, please visit our About page.
For a list of our services and prices, please see our Services page.